Journal of Neuroscience: Art Work asTitle Page
April 2023: Artwork relating to Samora Okujeni's current article was chosen as cover image for the new Journal of Neuroscience 43(14).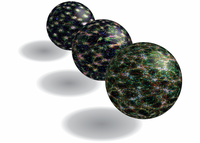 Graphics: Samora Okujeni
The title page shows immunomicrographs from decreasingly clustered neuronal networks projected onto globes. Together they symbolize the transition from modular to global connectivity and from "insular" to comprehensive activation of the network as modularity decreases.
 In the corresponding article in the same issue, Samora Okujeni and Ulrich Egert demonstrate that scale-free dynamics preferentially emerges in networks with moderate modularity, which provides first experimental support for theoretical predictions that such network structures facilitate self-organized criticality in neuronal networks.

See here the JNS page
About the Cover

More information about the related journal article: 
Structural modularity tunes mesoscale criticality in biological neuronal networks
5. April 2023: Eine Illustration zum aktuellen Artikel von Samora Okujeni wurde als Titelbild für die neue Ausgabe des Journal of Neuroscience 43(19) ausgewählt.
 Das Titelblatt zeigt immunmikroskopische Aufnahmen von drei neuronalen Netzwerken mit von hinten nach vorn immer gleichmäßiger verteilten Neuronen, die auf Kugeloberflächen projiziert wurden. Zusammen symbolisieren sie den Übergang von modularer zu globaler Konnektivität und von "insulärer" zu vollständiger Aktivierung des Netzwerks mit abnehmender Modularität.
 In ihrem Artikel in derselben Ausgabe zeigen Samora Okujeni und Ulrich Egert nun erstmals experimentell, dass skalenfreie Aktivitätsdynamik bevorzugt in Netzwerken mit moderater Modularität auftritt. Die Ergebnisse stützen theoretische Vorhersagen, dass modulare Netzwerkstrukturen selbstorganisierte Kritikalität in neuronalen Netzwerken unterstützt.
Informationen zum Titelbild finden Sie auf der Webseite des Journal of Neuroscience.
Publikation:
Okujeni S and Egert U (2023): Structural modularity tunes mesoscale criticality in biological neuronal networks. Journal of Neuroscience 43(14), 2515-2526.
Die Publikation kann über die Webseite des Journal of Neuroscience abgerufen werden (bei entsprechender Berechtigung).
Die vorab veröffentlichte Version des Manuskripts ist über diesen Link frei zugänglich: DOI: https://doi.org/10.1523/JNEUROSCI.1420-22.2023