BernsteinCorTeC Award 2022
The Bernstein-CorTeC Award honors outstanding scientific achievements in the field of Computational Neuroscience and Neurotechnology. The prize is awarded annually alternating for Doctoral or Master theses.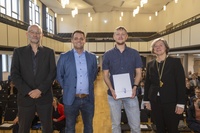 Prof. Dr. Stefan Rotter, Bernstein Center Freiburg, Alexis Gkogkidis, CorTec GmbH, Dr. Artur Schneider and Prof. Dr. Kerstin Krieglstein. Foto: Patrick Seeger/Universität Freiburg
In 2022, the prize is awarded to Dr. Artur Schneider for his Doctoral thesis on the topic: "Toolbox for the Analysis of Motor Dynamics during Unrestrained Behavior".

Movement is our most important means of interacting with our environment. To study the neuronal processes underlying movement, neuroscientists often take the reductionist approach of reducing the behavior under study to a few controllable factors. However, this also limits our ability to understand the natural dynamics of movement. Therefore, there is an effort in neuroscience to study neuronal processes in more natural settings and under free movement conditions.
In addition, many scientific instruments for electrophysiology and optogenetic modulation were originally developed for acute experiments and now need to be adapted for chronic, free-motion use. In his work, Artur Schneider developed several complementary tools to study neuronal processes. Next to the development and characterization of different multifunctional techniques combining electrophysiology and optogenetics, Dr. Schneider elaborated a novel method for virtual head fixation, which is based on the also newly developed tracking system FreiPose.
Using these developments, he was able to show that a much larger proportion of neurons in the motor cortex are tuned to anterior limb movements than originally described. This tuning was previously masked by the influence of body posture information. In his work, he concluded that measuring movements without constraints is an essential step toward understanding the underlying neuronal dynamics. When accurate descriptions of ongoing behavior are incorporated into computer models of neuronal activity, motifs of neuronal population activity related to sensorimotor integration and decision making can be extracted.
The award winner performed his work in the laboratory and under the supervision of Prof. Ilka Diester (https://www.optophysiology.uni-freiburg.de/). After his PhD on September 30, 2022, Artur Schneider has started a postdoctoral position in Prof. Diester's lab and is now working on the neuronal basis of flexible behavior in the prefrontal cortex using his new methods.
This project is part of the DFG Research Group 5159 entitled "Resolving prefrontal flexibility".
Der Bernstein-CorTec Preis zeichnet hervorragende wissenschaftliche Leistungen im Bereich Computational Neuroscience und Neurotechnologie aus. Der Preis wird jährlich alternierend für Promotionen oder Masterarbeiten verliehen. 
Im Jahr 2022 wird der Preis an Dr. Artur Schneider für seine Doktorarbeit zum Thema "Toolbox for the Analysis of Motor Dynamics during Unrestrained Behavior" verliehen.
Bewegung ist unser wichtigstes Mittel, um mit unserer Umwelt zu interagieren. Um die der Bewegung zugrunde liegenden neuronalen Prozesse zu untersuchen, verfolgen Neurowissenschaftler häufig den reduktionistischen Ansatz, das untersuchte Verhalten auf einige wenige kontrollierbare Faktoren zu reduzieren. Dies schränkt jedoch auch unsere Fähigkeit ein, die natürliche Dynamik der Bewegung zu verstehen. Daher gibt es in den Neurowissenschaften ein Bestreben, neuronale Prozesse in natürlicheren Umgebungen und unter freien Bewegungsbedingungen zu untersuchen.
Darüber hinaus wurden viele wissenschaftliche Instrumente für die Elektrophysiologie und die optogenetische Modulation ursprünglich für akute Experimente entwickelt und müssen nun für den chronischen, frei beweglichen Einsatz angepasst werden. In seiner Arbeit hat Artur Schneider mehrere komplementäre Instrumente entwickelt, um neuronale Prozesse zu untersuchen. Neben der Entwicklung und Charakterisierung verschiedener multifunktionaler Techniken zur Kombination von Elektrophysiologie und Optogenetik hat Dr. Schneider eine neuartige Methode zur virtuellen Kopffixierung erarbeitet, welche auf dem ebenfalls neuentwickelten Trackingsystem FreiPose basiert.
Mittels dieser Entwicklungen konnte er zeigen, dass ein wesentlich größerer Teil der Neuronen im motorischen Kortex auf Bewegungen der vorderen Extremitäten abgestimmt ist, als ursprünglich beschrieben. Diese Abstimmung wurde zuvor durch den Einfluss der Körperhaltungsinformationen überdeckt.
In seiner Arbeit kam er zu dem Schluss, dass die Messung der Bewegungen ohne Einschränkungen ein wesentlicher Schritt zum Verständnis der zugrunde liegenden neuronalen Dynamik ist. Wenn genaue Beschreibungen des laufenden Verhaltens in Computermodelle der neuronalen Aktivität einbezogen werden, können Motive der neuronalen Populationsaktivität, die mit der sensomotorischen Integration und der Entscheidungsfindung zusammenhängen, extrahiert werden.
Der Preisträger hat seine Arbeit im Labor und unter der Betreuung von Prof. Ilka Diester angefertigt (https://www.optophysiology.uni-freiburg.de/). Artur Schneider hat nach seiner Promotion am 30. September 2022 eine Postdoktorandenstelle im Labor von Prof. Diester angetreten und arbeitet nun mit seinen neuen Methoden an den neuronalen Grundlagen flexiblen Verhaltens im präfrontalen Kortex.
Dieses Projekt ist Teil der DFG Forschungsgruppe 5159 mit dem Titel "Resolving prefrontal flexibility".