The focus is on Europe at the 2019 Stallwächterparty
July 01, 2019: Inform, explain, answer questions – this was the mission of Stefan Rotter, Managing Director of the Bernstein Center Freiburg (BCF), who travelled to Berlin for the 56th Baden-Württemberg Stallwächterparty. The BCF accepted the invitation of Prof. Dr. Dr. Hans-Jochen Schiewer, Rector of the University of Freiburg and President of Eucor – The European Campus, to represent the trinational university network of the Upper Rhine together with the Karlsruhe Institute of Technology. Stefan Rotter used this opportunity to plead the case for fundamental research to Minister Theresia Bauer, responsible for Universities, Research Institutions and Art Institutions in Baden-Württemberg.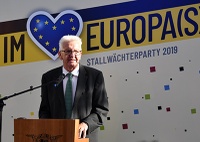 Ministerpräsident Winfried Kretschmann welcomes the guests of the 56. Stallwächterparty in Berlin. Source: Landesvertretung Baden-Württemberg
"University research is sometimes criticized for not being applied enough. However, I am convinced that applied research can only be successful when based on broad and solid fundamental research. Fundamental research is research that benefits us. But sometimes this benefit only appears after a long delay. We should not forget that," explains Stefan Rotter.

Fundamental research also forms the central basis for cooperation in the trinational neuroscience network Neurex between Strasbourg, Basel and Freiburg, whose German lead partner is the Bernstein Center Freiburg.

This cross-border cooperation in the field of research and teaching has existed since 2001 and was funded by the EU for the first time in 2002. Since then, the Neuroscience Upper Rhine Network has enjoyed continued EU funding. Neurex and the Neurex-based Neurocampus projects are also part of Eucor. Eucor – The European Campus is a unique trinational university alliance with five universities from three countries.

Stallwächterparty
The summer party has been held by the Baden-Württemberg state representation in Berlin since 1964. It was established for those who "kept guard" in Berlin during the parliamentary summer recess. Today, the Stallwächterparty has developed into an important communication platform during the political summer in the capital. This year, on June 27, around 1500 invited guests from politics, business and society celebrated together with top political personnel under the motto "Baden-Württemberg – At the Heart of Europe".
Further information
Neurex | supported by Interreg
Eucor
Karlsruhe Institute for Technology
Stallwächterparty 2019

Impressions of the 56th Baden-Württemberg Stallwächterparty in Berlin

The Bernstein Center Freiburg (BCF) represents the trinational neuroscience network Neurex as part of Eucor – The European Campus at the political summer party in Berlin.

Aurelle Garnier, Eucor, and Prof. Dr. Stefan Rotter, Managing Director of the BCF, are ready to answer questions. Source: Landesvertretung Baden-Württemberg

Prof. Dr. Dr. Hans-Jochen Schiewer (l), Rector of the University of Freiburg and President of Eucor, in conversation with Prof. Dr. Holger Hanselka, President of the Karlsruhe Institute of Technology

Prominent politicians interested in neuroscience research

Stefan Rotter (l) pleads the case for fundamental research to Theresia Bauer, Research Minister of Baden-Württemberg

Hans-Jochen Schiewer (l) and Theresia Bauer (in the middle) in discussion

State Secretary Volker Ratzmann (in the middle) at the Eucor booth. Source: Landesvertretung Baden-Württemberg

Hans-Jochen Schiewer explains the idea of Eucor to State Secretary Volker Ratzmann. Source: Landesvertretung Baden-Württemberg

Engaged discussion on cross-border networking