BCF PhD student receives stipend, participates in Google's "Summer of Code"
Yury Zaytsev sets out to improve development cycle of NEST simulator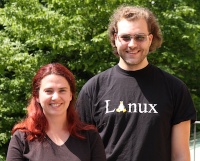 Yury and Abigail, his mentor for the coding project
On April 25, Google announced this year's participants within the Summer of Code, a global programme that offers student developers stipends to contribute to various open source software projects. This year, only about 1,100 ambitious students worldwide will receive such a grant. One of them is Yury Zaytsev, PhD student at the Bernstein Center Freiburg.
Yury's plan is to work on a build platform and continuous integration (CI) infrastructure to improve the accessibility and quality of neuroinformatics code. Specifically, he will work on NEST, an open-source neural simulator. Apart from adding a much-needed functionality to the simulation software, he expects this contribution to help him with his own scientific research as well.
Yury will be mentored by fellow BCF member Abigail Morrison, Jochen Eppler from the NEST Initiative and Raphael Ritz from the INCF Secretariat. The International Neuroinformatics Coordinating Facility (INCF) acts as a mentoring organisation within Google's programme.
As Yury writes in the outline of his project:
I would like to create a CI infrastructure and set it up to provide complete build services for one particular neuroinformatics project (NEST). Implementation would be such that further projects can be added by writing appropriate glue code, maintenance of the build slaves is automated, self-documenting and reproducible. A research question would be whether a compile farm can be provided using the same configuration of slaves (1) and if NEST can be built in parallel (2).
Over the years, Google has worked with numerous open source, free software, and technology-related groups to identify and fund projects for a three month period through Google Summer of Code. Since its inception in 2005, the program has brought together over 4,500 successful student participants and over 3,000 mentors from more than 100 countries worldwide.
Links:
Full description of Yury's project at the Summer of Code website